Gin is the perfect winter warmer, so put your G&T aside (just for now) and try something new.
The clocks have gone back, the days are getting shorter and the cold weather is on it's way. It's time to swap your G&T for something equally as delicious to keep you warm and cosy on a cold winter's night.
Here's 5 to get you started. Feel free to adjust the recipes to your taste.
Gin Hot Chocolate - Chocolate and Gin, yes please!!
Heat 200ml of milk in a pan with 3-4 teaspoon of chocolate powder, stirring until hot. 
Add 50ml of your favourite Gin. 
Top with whipped cream and add marshmallows for a real treat
How about Hot Chocolate Orange? The Chase Seville Marmalade is perfect

Mulled Sloe Gin - even more delicious than mulled wine.
Heat 150ml of apple juice and 50ml of orange juice in a pan a with winter spices: star anise, cloves, cardamom, cinnamon, stirring occasionally.
Remove from the heat and strain into a heat resistant glass or cup.
Add 50ml of Sloe Gin - I recommend the 6 O'Clock Sloe Gin
Garnish with a slice of orange.

Spiced Gin and Ginger - something warm and spicy
Heat 150ml apple juice in a pan with 30ml of Ginger Syrup, star anise and 1/2 a cinnamon stick
Simmer for about 5 mins
Pour into a heat resistant glass or cup and garnish with apple slices
Stir in your favourite Gin and enjoy - try a Spiced Gin, I really like Peaky Blinder

Hot Gin Toddy - simple but delicious
Add 50ml of Gin, 50-75ml of hot water, 25ml freshly squeezed lemon juice and 1 teaspoon of sugar into a heat resistant goblet or glass mug.
Stir well and garnish with a cinnamon stick
London Dry gins are perfect for this drink, Tanqueray is one of my favourites.

Hot Negroni - a classic, only hotter!
Pour 25ml Gin, 25ml Campari and 25ml Sweet Vermouth into a warmed mug and stir together.
Fill up with hot red berry tea and pop in a fresh orange slice.
Try this with Sipsmith London Dry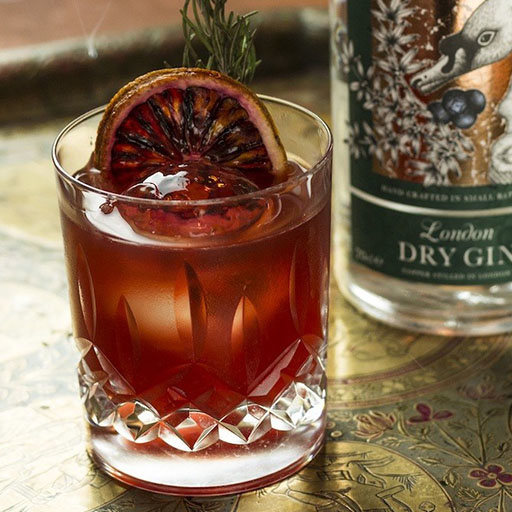 What are your favourite winter warmers - leave us a comment below