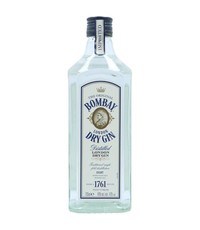 8% Saving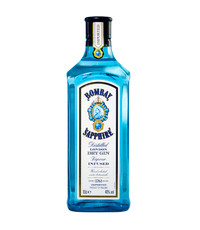 Bombay Sapphire Gin
Bombay Sapphie gin, was first launched in 1986 in the UK. The image of Queen Victoria and the popularity of gin during the time of the British Raj brings Bombay into the name, whilst the Sapphire comes from the Star of Bombay sapphire which is a violet-blue stone mined in Sri Lanka.
It is sold in a square, flat sided bottle with a sapphire colour, and an image of Queen Victoria on the label.
It's recipe consists of ten ingredients, almond, lemon peel, liquorice, juniper berries, orris root, angelica, coriander, cassia, cubeb and grains of paradise. It is distilled through the botanicals in a basket three times to gain its lighter flavour and aroma. Water is used from Lake Vyrnwy in north wales to bring it to an abv of 40%.
Bombay Sapphire at Gin Fling
We have the following Bombay Sapphire brand gins available for you at great prices to taste and enjoy:
Bombay Sapphire with a 40% abv in Mini (5cl), and 70cl size options. This is the classic recipe using the 10 botanicals detailed above. Great over ice with a good tonic and a citrus garnish.
Bombay Sapphie East was introduced in 2011 and has a slightly higher abv of 42%. Available in 70cl. This has two additional botanicals added to the classic ten, which are lemongrass and black peppercorns. Its formulation is perfect to counter some of the sweeter flavoured tonics. 
Bombay Dry Gin is available in 70cl with an abv of 40%. It uses eight botanicals (juniper berries, coriander seeds, angelica root, almonds, lemon peel, cassia bark, orris root and liquorice.
Bombay Sapphire English Estate is available in 70cl at an abv of 41%. This utilises the classic recipe with the addition of three new (english sourced) botanicals: pennyroyal mint, rosehip hazelnut.
Star of Bombay is also available in a 70cl size, but with a higher abv of 47.5%. It was initially launched to the UK market only, but due to its success it has been released to other markets. It has the signature ten Bombay Sapphire botanicals, but with bergamot and ambrette seeds added to give an additional complexity to the flavour profile. 
Last, but not least, we have Bombay Bramble. This is a new release for 2020 which is inspired by the Bramble cocktail. Available in 70cl with an abv of 40% is is deliciously fruity, a wonderful crimson colour and is made with infusions of blackberries and raspberries. Perfect as we go into summer.