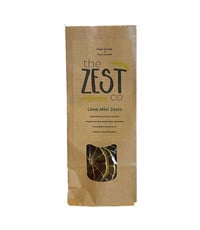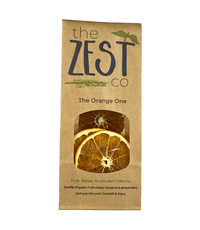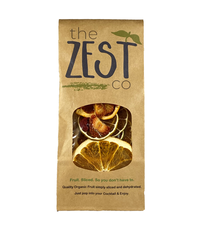 TheZestCo bring you organic, seasonal dried fruit packed in eco-friendly, resealable bags.
We love how the whole idea of TheZestCo came from an evening with family, drinking gin. When someone commented how it was a shame to waste a whole lemon, just for to use a few slices in your drink, the idea was born. Having seen dried fruits at craft markets at Christmas for making decorations and wreaths, why not use them for cocktail garnishes. And so it began........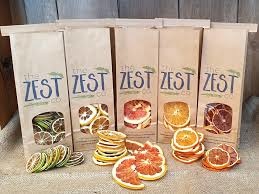 Natural, Organic, Untreated Fruit
It all begins with the fruit. TheZestCo believe in zero waste, so that means using all the fruit, skin and all. That's why they insist that only natural and organic fruit goes into their bags. Each piece of fruit really is an individual, with its own lumps and bumps and uneven bits. You may notice that your orange wheel is not a perfect circle, or there may be a tiny bit more pith on the grapefruit quarters. TheZestCo are not looking to use perfect looking fruit, but to deliver you a healthy product that smells and taste divine. It's going into your cocktail, so why wouldn't you want that too?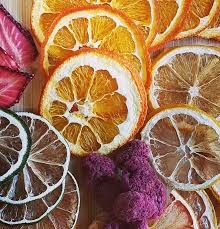 Less Plastic, More Eco
There was no compromise, TheZestCo had to go down the eco route with their bags. As a new business they wanted to be as ethical, genuine and honest as possible (a characteristic that we at Gin Fling admire). They could have used something easier to find, cheaper and a little more robust but this would not have met with their principles. They finally found their bag: 100% biodegradable and compostable, just rip off the tin-tie (which is used to easily reseal the bag) when the compost heap calls. Even packaging that their suppliers use is eco friendly, it can be returned and reused time and time again. ​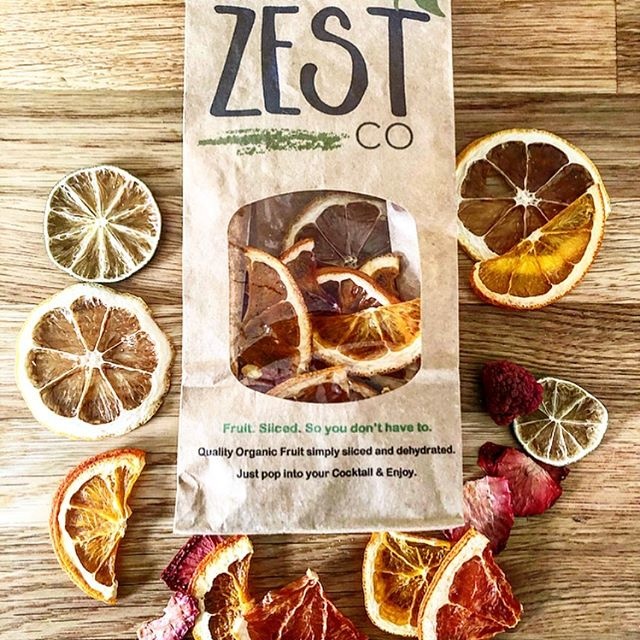 Drying Fruit - A Masterclass
Dehydrating takes all the moisture out of the fruit, intensifies the flavour and increases how long the fruit lasts. It is 100% natural as nothing is added in the process and the fruit remains packed with most of their vitamins, minerals and fibre. A great thing about dried fruit is that there is no waste, it can last for a long time if stored properly.​ Turn the top of the bag over a few times, keep away from direct sunlight and at room temperature. Most importantly, keep it dry.The ZestCo recommend a 'best before' of 6 months but it will be good to use for much longer.
Just about any fruit can be dehydrated but citrus fruit is the best. TheZestCo always start with the best available fruit, rejecting fruit with obvious damage or mould. As they use only organic fruit, you can be sure that there are no chemicals or nasties on the finished product. All the fruit is washed in cool water and given a gentle scrub to remove any dirt that may have gathered during the growing , harvesting and transportation process. After rinsing, it is laid out on paper towels to dry off as much as possible, before being thinly sliced by hand to approximately 2mm. Some larger fruits, like grapefruit may need to be cut in half before drying so they easily fit in your G&T glass. Once prepared, the fruits are laid out on a tray and put in the dehydrator for approximately 12 hours. Once cooled they are packed and ready for use. 
At TheZestCo, all of the fruits are prepared with care and packed with love. 
[email protected] "It is an absolute delight working with Gin Fling. They are consistently professional and knowledgeable, while being friendly and helpful at the same time."